Coolforce Limited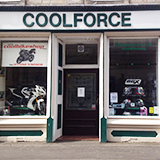 Welcome to Coolforce Limited, home to the Coolforce group. Since the companies formation in 1994, Coolforce has grown substantially and been strengthened by a programme of training, the addition of experienced key personnel and constant customer consultation.
Since our launch in 1994, we have extended into a range of sectors of the market including:
- Refrigeration and Air Conditioning
- Motorcycles and Scooters
- Property Management

As we continue to expand and develop, we continue to uphold our commitment to excellent customer service.
Testimonials
Everything received in post this morning thank you so much guys for all your effort. Now I'm off out on the bike :D thanks again!!!!!
— Richard Power, Barton on Sea