News Centre
---
Saturday 24th March 2018

E.ON have recently launched their 'Heat from thin air' campaign, showing the power of air source heat pumps.
But do you know that air source heat pumps are actaually a viable way to heat your home?

Air source heat pumps are eco-friendly heating and air-conditioning systems that use completely renewable energy –
from the ground or air to create heat in the home.
These systems are a great alternative to traditional fossil fuel boilers. They are up to 5 times more energy effiecient than traditional heating methods.
Meaning that you can help the environment whilst saving yourself money!

As a renewable technology, air source heat pumps allow opportunities for grant and tax benefits to be claimed.

5% VAT
Households are responsible for 25% of all emissions. As part of ongoing efforts to reduce emissions, the goverment has reduced VAT
on air source heat pumps for domestic applications to 5%.
for more information, visit www.hmrc.gov.uk

MCS accredited
The Department of Energy and Climate Change's 'Microgeneration Certificate Scheme' (MCS) recognises certain air source heat pumps
as approved microgeneration technology. Approved products are eligible for grants under the Low Carbon Buildings Programme.
For more information, visit www.microgenerationcertification.org

ECA eligible
Highly energy efficient heat pumps which qualify for listing on the Energy Technology List (ETL) are eligible for the Goverments Enhanced Capital Allowence
(ECA) scheme.The ECA provides enhanced tax relief allowing an investment in energy saving technology to be written off against the taxable profits of the period.
Fore more information, visit www.eca.gov.uk/etl

At Coolforce, we are offering single room heat pumps with cooling from only £1,399.00 including installation & 5% VAT!

For a Survey and Quote please call us on 01592 592600.
---
Saturday 27th January 2018

Are you currently buying bagged ice to use in your pub or restaurant?
What if we told you that you can get a brand new Whirlpool Ice Machine AND save yourself money each week?.
Impossible?
Not with our Ice Machine rental deal from Refrigeration Direct!

The average sized pub or restaurant can easily go through 10-15 bags of ice each week. With the average price for a supermarket
bag of ice being £1.20 this could be costing you between £12 and £18 per week!
With our Ice Machine rental deal, you get a brand new machine, with prices starting from only £8.50.
Saving you not only money, but also the hassle of finding somewhere to store your bags of ice!

Whirlpool K-20 Ice Machine - £8.50 Rental Per Week (Excluding VAT)
Produces 24kg of ice per 24 hours
10kg bin capacity
590mm x 555mm x 535mm

Whirlpool K-40 Ice Machine - £10.20 Rental Per Week (Excluding VAT)
Produces 40kg of ice per 24 hours
20kg bin capacity
850mm x 555mm x 535mm

All prices exclude VAT. After 2 years rental, the machine is yours to keep!
For more information please call us on 01592 592600

---
Thursday 25th January 2018

Foster One Off Clearance Offer
Two very special, clearance offer cabinets, manufactured by Foster Refrigerator, sold on a first come / first served offer,
including 2 years parts and labour warranty from Foster.

These are brand new, in their boxes, with a 2 years parts and labour warranty!
Call 01592 592600 for more information
---
Saturday 20th January 2018

Brand New HJC CS-15 Helmet Range
Check out our brand new range of HJC CS-15 helmets that have just arrived in the showroom!
We have 5 designs avalible, Space Black, Space White, Matte Black, Songtan Green and Songtan Red.

Visit our showroom at 127 Commercial Street, Kirkcaldy, KY1 2NY to purchase.


---
Saturday 9th December 2017


Updated Refrigeration Direct Website
Check out our newly updated Refrigeration Direct website. We stock some
of the leading brands and have everything from Glass Washers to Multideck Chillers!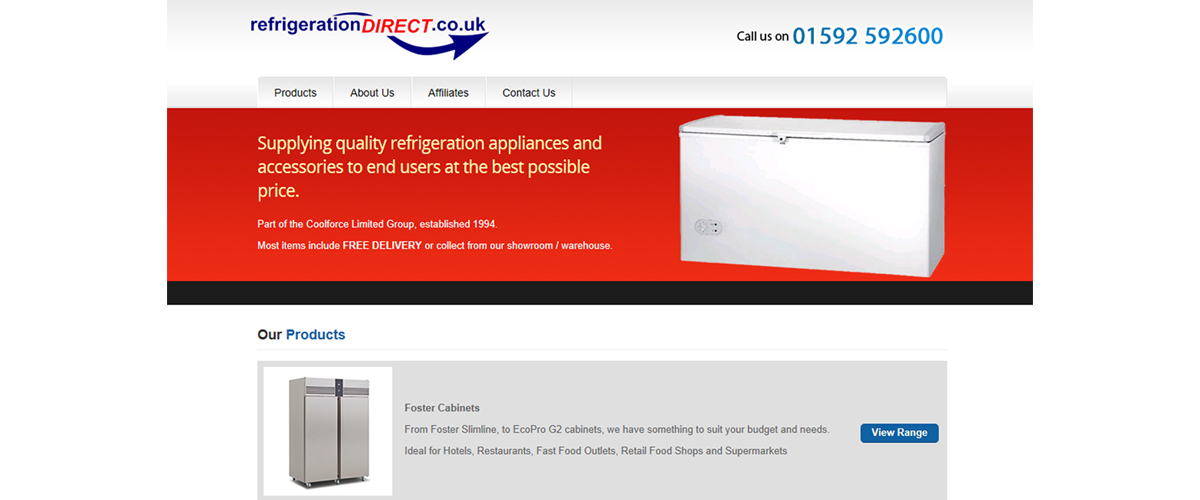 ---
Saturday 25nd November 2017



New Property Available Soon
2 bedroom ground floor flat in Plean, Stirling.
Spacious lounge/dining area, kitchen, shower room, private fenced off garden area & on street parking. Internal refurbishment nearing completion.
This property should be available in December 2017
---
Wednesday 22nd November 2017

Get your home ready for winter with an Air source heat pump system from Coolforce Refrigeration & Air Conditioning.
With prices starting from only £1399 for a single room heat pump with cooling including Installation and 5% VAT.
---